Forecast Pro is a comprehensive forecasting and forecast management system. This affordable and easy-to-use solution gives your team the capability to create accurate and credible forecasts, along with the tools for efficiently managing, monitoring and improving your forecast process.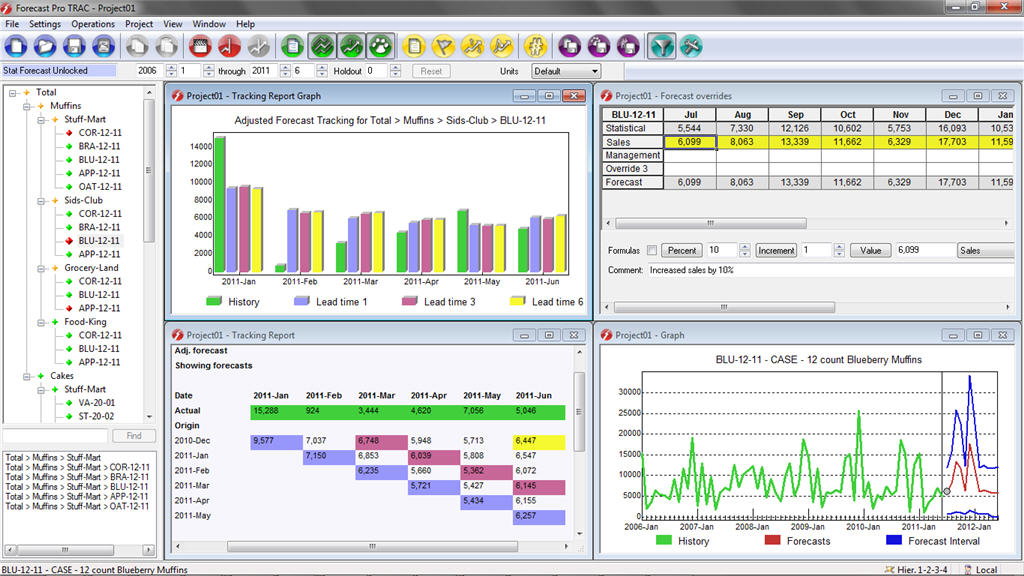 Designed specifically for business forecasters, Forecast Pro has an intuitive interface that displays hierarchical data in a tree-like structure, allowing you to work at any level of detail with a simple click of the mouse. As you navigate from item to item, synchronized windows displaying graphical and tabular reports are instantly updated. Sharing your work is easy with Forecast Pro's flexible output formats, including one–click, direct–to–Excel reporting.
Create Accurate Forecasts Automatically
Forecast Pro's automatic "best pick" feature allows you to generate accurate forecasts, even for thousands of items, in a matter of seconds. If you prefer to specify the forecasting approach, Forecast Pro provides menu-based custom modeling options and a comprehensive set of diagnostic tools.
Forecast Pro's comprehensive methods accommodate seasonal demand, product hierarchies, product promotions, new products, slow-moving items, causal variables, outliers and much more. Visit the Forecasting Methodologies page for a complete list.

Watch the Quick Tour video to see Forecast Pro's power and flexibility in action.
Forecast Pro includes the following, and much more!
A wide range of forecasting models with an automatic "best pick" option
Specialized methods for new products, promoted items, and one-time events
An easy-to-use override grid for making and documenting forecast adjustments
Tools for forecast collaboration and team forecasting
Features for working with multiple hierarchies and units of measure
Flexible reporting formats including one-click, direct-to-Excel
Forecast vs. actual tracking with extensive exception reporting
Integration of multiple forecasts for S&OP
Customizable worksheets that can include imported information
Easy integration with databases and corporate systems
Native 32-bit and 64-bit support
Intergrate Smoothly with Other Systems
Forecast Pro is designed to integrate directly with your existing corporate systems. Historical data is imported into Forecast Pro and your forecasts are exported back to your corporate systems using either a file interface (.xls, .xlsx, .txt, .csv or XML) or directly via ODBC.